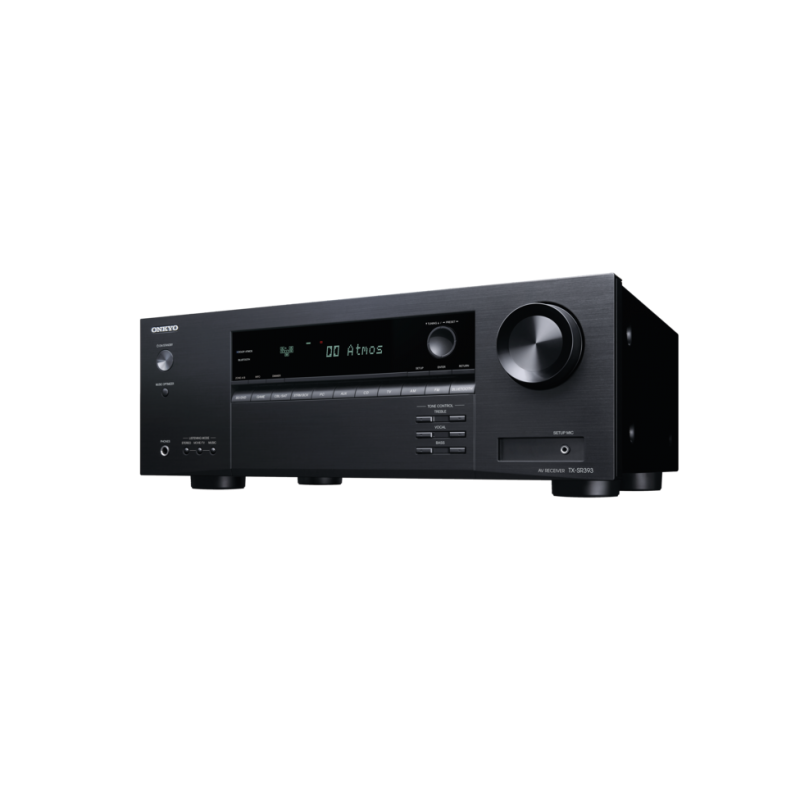  
ONKYO TX-SR393
Sintoamplificatore 5.2, 5x135 W, Bluetooth, Dolby Atmos,
DTS:X, AccuEQ, Dolby Atmos Height
Virtualizer, DTS Virtual:X,
DAC AKM 192kHz/24, HDMI 2.0, HDR (Dolby Vision, HDR10, HLG,
BT.2020),
HDCP2.2 full support, 4 HDMI in/1 HDMI out, OSD.
https://www.it.onkyo.com/en/products/tx-sr393-154359.html
PRODUCT HIGHLIGHTS
155 watts per channel
Supports 4K/60p and HDR (HDR10, HLG, Dolby Vision®, BT.2020)
Dolby Atmos® and DTS:X® playback
Dolby Atmos Height Virtualizer* and DTS Virtual:X®
AccuEQ with subwoofer EQ and AccuReflex™
Discrete high-current analog amp system with 4-ohm drive capability
Bluetooth® technology and Advanced Music Optimizer™
Vocal Enhancer function improves voice audibility
Zone B line-out shares any audio source to components with an RCA input, such as wireless headphone docks, etc.
OSD window shows media format data for quick confirmation
* Enabled with a future firmware update.
AMPLIFIER FEATURES
155 W/Ch (6 Ω, 1 kHz, 10% THD, 1 channel driven), 135 W/Ch (6 Ω, 1 kHz, 1% THD, 1 channel driven, IEC)
High-Output Low-Noise Power Transformer
High-current 5-channel analog amplification system
Discrete high-power output transistors
Original low-impedance amp-circuit topology
VIDEO & AUDIO SUPPORT
Supports HDCP 2.2, 4K/60p, HDR (Dolby Vision, HDR10, HLG, BT.2020), 4:4:4 color-space, BT.2020, 3D Video, ARC (Audio Return Channel), DeepColor™, x.v.Color™, and LipSync via HDMI
Dolby Atmos, DTS:X, Dolby® TrueHD, and DTS-HD Master Audio™ decoding
Supports SACD (Super Audio CD) Playback via HDMI (2.8 MHz/2ch, multi-channel)
Dolby Atmos Height Virtualizer and DTS Virtual:X 3D sound processing
Dolby Surround® and DTS Neural:X® upmixing technologies
Premium 384 kHz/32-bit AKM multichannel DAC
Direct Mode for source-authentic stereo sound
CONNECTION FEATURES
4 HDMI inputs and 1 output with ARC (Audio Return Channel)
2 digital audio inputs (1 optical and 1 coaxial, assignable)
3 analog audio inputs (assignable)
Zone B line out
2 subwoofer pre-outs
Speaker terminals (screw-type x 2 [Front L/R], lever-type x 3)
Rear USB power supply terminal (5 V/1 A) for media streaming devices
6.35 mm headphone output (front)
3.5 mm AccuEQ setup mic input (front)
ADVANCED FEATURES
AccuEQ Room Acoustic Calibration, Subwoofer EQ, and AccuReflex
Zone B line-out shares any audio source to components with an RCA input, such as mini hi-fi systems, integrated amps, wireless headphone docks, etc.
DSP-controlled Vocal Enhancer function boosts dialog audibility via remote keys or front-panel controls
Bluetooth wireless technology supports high-quality audio streaming from phones, tablets, and PCs
Advanced Music Optimizer improves playback quality of compressed audio
GUI with OSD via HDMI features media input/output information window for easy confirmation of playback settings
1080p Full HD to 4K Ultra HD upscaling over HDMI
Quick Connection Guide on rear panel for stress-free setup
A/V sync control (up to 500 ms in 5 ms steps at 48 kHz)
Direct Power On function switches on receiver when an input key is pressed on the remote control or front panel
HDMI passthrough function on standby
Tone controls for Front L/R channels (bass/treble)
3-Mode front-panel display dimmer (Normal/Dim/Dimmer)
AM/FM tuner with 40 random presets
Sleep timer
Simple remote control